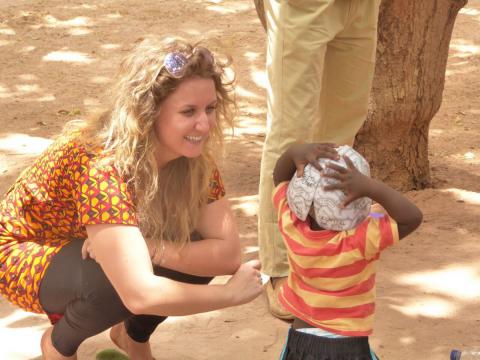 The BRIGHT (Brain Imaging for Global Health) project has held its very first open day in The Gambia, allowing participants of the study to come along for a day of hands on workshops and different activities related to brain functioning and brain development. The workshops served to illustrate the importance of the brain in virtually all daily activities, as well as to highlight the rapid brain development happening in our very young participants. The day offered exciting activities that allowed participants to explore the brain through arts and crafts workshops, as well as allowing participants and researchers to discuss a broad range of questions related to the brain development, brain imaging and mental health.
The entire BRIGHT team based in the Gambia was involved in successfully delivering the event. While the feedback received by participants was overwhelmingly positive, the event was also invaluable from a researcher's point of view as it will greatly help contextualise our findings.
The event was funded by a UCL Train & Engage grant held by BRIGHT PhD student Laura Kischkel and was greatly supported by the UCL Public Engagement Unit. 
The BRIGHT project, which in the UK is led by Dr Sarah Lloyd-Fox (CBCD Birkbeck) and Professor Clare Elwell (UCL) is a longitudinal collaboration of researchers from UCL, Birkbeck, KCL and the MRC Gambia, examining developmental trajectories of babies over the first 1000 days of life. Find out more at globalfnirs.org or follow the BRIGHT project on Twitter (@bright_project).