LOOKING TO BREAK THE MONOTONY OF SOCIAL DISTANCING?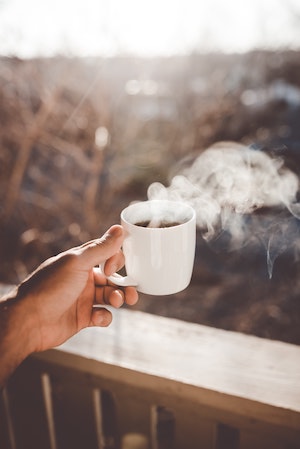 Please join us for a virtual COFFEE TALK and add interest to your day! Tuesdays from 11-11:30 one researcher from our Babylab will talk about their research, there will be a chance to ask questions and chat to researchers and other parents. 
Our next talk will be on Tuesday, 21st July with Maheen Siddiqui - details to follow shortly!
To quickly register for zoom login details please click here http://cbcd.bbk.ac.uk/coffeetalks
Everyone is welcome! Researchers, parents, friends AND babies!
Past speakers:
14/7/2020 - Teresa Del Bianco discussed using a mobile tool, that gives children substantial freedom of movement, to record brain activity in the field. She shared her experiences of using it in Cape Town, South Africa, and the challenges and benefits of bringing lab equipment to the real world. Teresa's Talk
30/6/2020 - Rianne Haartsen highlighted how we use EEG at the Babylab to measure brain activity and communication and how we are investigating this in infants with older siblings with autism. She described her research analysing brain activity in infants recorded while they watch women singing nursery rhymes compared to their brain activity recorded while watching toys. Rianne's Talk
23/6/2020 - Aude Carteron discussed all things action control. For example, how do children get better at controlling their actions - from fetching their favourite toy to preparing a lunch box? Aude highlighted the function of action control in children and discussed how researchers study the topic, from what is known to why it matters. Aude's Talk
9/6/2020 - Brittney Chere explained her highly topical research project looking into the influence of noise and distraction on children's ability to learn and pay attention in various settings. Brittney discussed her previous Babylab study that looked at this topic in babies, and her upcoming online study with teenagers. Brittney's Talk   Brittney's Online study for 12-18 year olds
2/6/2020 - Louisa Gossé discussed her research into infant sleep using various techniques including fNIRS, eeg, actigraphs and eye-tracking. If you ever wonder what happens in your baby's brain when they're sleeping, this talk is for you! Louisa's Talk
19/5/2020 - Claire Essex introduced her research using an eye-tracker to investigate the possible impact of cartoons on attention and learning in children. Kid's cartoons often include weird breaks with reality that are believed to entertain children and provide an opportunity for learning. But are these fantastical moments too much for the developing brain to process?  Claire's Talk     Claire's Online Study
12/5/2020  - Lisanne Schröer talked about her work with motion capture and Duplo. She discussed how blocks and 'building a house' can help us understand action planning in young children. Click here for Lisanne's Talk
5/5/2020 - JJ Begum Ali discussed the STAARS study and her latest research identifying differences in reaching behaviour between babies with increased risk of developing Autism or ADHD and babies without increased risk. Read more about STAARS here