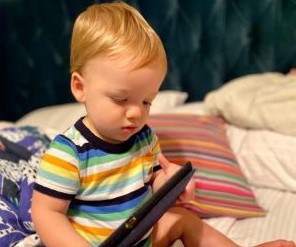 The coronavirus pandemic has inspired us to create interesting and accessible online studies you can take part in from the comfort of home, or wherever you are in the world!
This page is updated regularly so please check back - more will come! Scroll down to see the full listings - there are studies for infants, children and teenagers.
Go! Gelato: automatisms in every-day life action control
Children between 7 and 12 years old are invited to take part in a study investigating the development of automatisms in every-day life action control. The study involves a videocall with the researcher and a fun computer game where your child will make virtual ice creams! Click here to find out how to take part or email Aude with your interest acarte06@mail.bbk.ac.uk    
Why so Curious: How does curiosity affect our decisions across development?
We invite children between 4 and 9 years old, adolescents between 13 and 16 years old and adults to try this 30-minute online study! We have designed 4 short, fun brain games to explore how people in different ages make decisions based either on their curiosity or on obtaining a certain reward. Click here to find out more.
BabySound: What Do Infants Prefer Listening To?
Babies between 4 and 11 months of age are invited to try this short, 20-minute study. We will play 20 child-friendly sounds and ask you to report how your baby's behaviour changed in response to each sound. We will also ask you some questions about your baby's preferences and behaviour in daily life. We will end with a short and fun sound quiz! Click here to learn more and take part
Going Back to School/Nursery After Lockdown?
Parents of 9-12 months old babies and 3-4 years old children are invited to this study investigating the adaptation of social skills (gaze-following in infants, and empathic behaviour in toddlers) to changes of the social routine due to the lock-down. To find out more information and take part, click here.
Data Sharing Survey for Parents of Children Under 16
Data sharing is becoming increasingly important in many areas of scientific research. With your help we hope to better understand parent views on sharing of their own and their child's data. Please

click here

 to read more information and begin the short survey. 

For any queries please contact us at 

staars@bbk.ac.uk
Noise and learning: is the home environment impacting learning during the COVID-19 pandemic?
If you have a child between 11- and 18-years-old who is continuing their studies at home during the pandemic, please take part in this fun 30 minutes study! It includes 2 questionnaires for both the parent and the child to fill out, as well as 3 fun brain games for the child/teen to play while wearing headphones and listening to some audio. Click here to learn more and begin the study: http://cbcd.bbk.ac.uk/research/noise-and-learning
The Looney Toons Study: Why are kid's cartoons so weird and how do they impact attention and learning?  
If you have a child between 12 months and 6 years old who would enjoy a fun working memory animated task, please try our study! The task should take about 10 minutes in total and can be completed on a touchscreen device. Click here to find out more and sign up www.psyc.bbk.ac.uk/toonsstudy
Teachbrite
If you have a baby under 12 months of age, please consider taking part in our study. Teachbrite aims to develop an app-based data collection tool specific to your baby. It collects data about how children enjoy and perform on a number of tasks. Find out more and sign up here: www.psyc.bbk.ac.uk/teachbrite