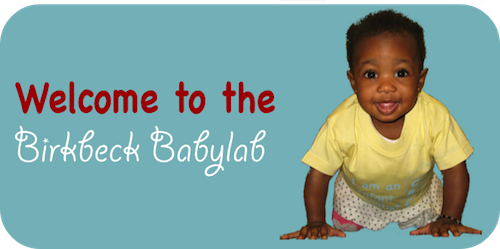 At the Babylab we want to better understand how babies learn and develop, particularly during the first 2 years of life.
We create fun studies that help us discover:
 how babies recognise faces
 how babies learn to pay attention to some things and not others
 how they learn to understand what other people do and think, and
 how their language and understanding of the world develops
We are also interested in understanding why and how some children develop conditions such as autism - please visit http://basisnetwork.org for more information on our Babysibs project.
If you live in or around London and are interested in participating in our studies, please sign up.
You can also contact the Babylab by phone: 020 7631 6258, or in writing by email: babylab@bbk.ac.uk, or by Freepost at the address below. Please mention your name and contact details as well as your baby's name and date of birth/due date.
You can download a map here which shows where we are located.
If you would like to know more about what visiting the Babylab involves, please visit our Frequently Asked Questions page. You can also see some sample information sheets from current and past studies by following this link. We send out an annual newsletter with updates on all our completed studies to parents on our database - you can download our previous newsletters here.