News
ToddlerLab Crowdfunding!!! -- UPDATE
Birkbeck Crowdfunding Campaign
Birkbeck's first ever crowdfunding campaign was a huge success and exceeded its £30,000 target!  The campaign raised funds to buy equipment for the ToddlerLab and had support from 260 donors raising a total of £37,871.  Thank you to everyone who donated! 
It's not too late to give - if you are interested

 in donating to support our ToddlerLab please visit: www.bbk.ac.uk/donate/toddlerlab

.
Building works are already underway and the funds raised will go towards buying state-of-the-art equipment and technology for the ToddlerLab.  Studying toddlers requires technology that moves with them, for example, wireless or wearable headsets which can monitor toddlers' brain activity while they run around and play. The Wohl Wolfson ToddlerLab is scheduled for completion in autumn 2019.
https://www.youtube.com/results?search_query=birkbeck
For more details and updates throughout this new project go here or follow us on social media.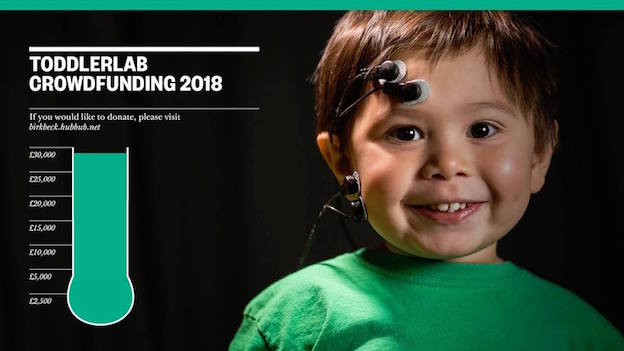 Symposium in honour of Annette Karmiloff-Smith
Understanding children's cognitive development – past, present and future
27-28 March 2018
For recordings of select speakers click here.