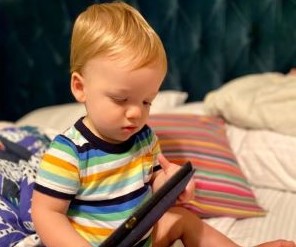 The last few years have inspired us to create interesting and accessible online studies you can take part in from the comfort of home, or wherever you are in the world!
This page is updated regularly so please check back - more will come! Scroll down to see the full listings - there are studies for infants, children and teenagers.
How do children and adolescents solve problems in new environments?
We invite children and teenagers aged 6 – 15 to help us understand how they learn to solve problems efficiently. This fun online and anonymous game takes about 45 minutes. We first ask parents to complete a questionnaire and then the child will play! Please click here to find out more. To take part to this study, please click here https://www.bbk.ac.uk/psychology/e/xp/247/258/   
Pandemic Impact: Effortful Control in Toddlers
Researchers at Birkbeck Babylab are looking for parents of children aged 3-5 years old to answer questions about their toddlers' effortful control abilities and how these might have been affected by the COVID-19 pandemic. This online survey takes just 20 minutes to complete, and you will be contributing to important research about how this unique event has influenced aspects of child development. 

To learn more about the study, please click here

To take part, please follow this link and click start: https://research.sc/participant/login/dynamic/F1E20F27-2F34-4AAA-A447-EBA7FADD8956
Why so Curious: How does curiosity affect our decisions across development?
We invite children between 5 and 7 years old, adolescents between 13 and 15 years old and adults to this entertaining online study! We have designed 5 short, fun brain games to explore how people in different ages make decisions based either on their curiosity or on obtaining a certain reward. Click here to find out more.
The TeachBRITE Evolution Study
We are developing a new tool (app) to communicate with families about their baby's development and new skills. This app contains activities you can do with your baby. We are trying out a version that asks parents to tell us how their child likes each activity and whether they could do it. We will also ask you to complete some online questionnaires. This will help us understand how to improve the app and learn more about how babies develop. If you have a baby 4-18 months please take part!

What you need to take part: 
BabySound: What Do Infants Prefer Listening To?
Babies between 4 and 11 months of age are invited to try this short, 20-minute study. We will play 20 child-friendly sounds and ask you to report how your baby's behaviour changed in response to each sound. We will also ask you some questions about your baby's preferences and behaviour in daily life. We will end with a short and fun sound quiz! Click here to learn more and take part