MRes Student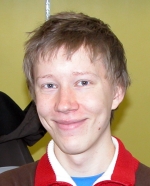 Centre for Brain and Cognitive Development
School of Psychology, Birkbeck College
Henry Wellcome Building, Torrington Square
London WC1E 7HX, UK
Phone: +44 (0)20 7079 0765
Fax: +44 (0)20 7631 6587
Email: t.teinonen at psychology dot bbk dot ac dot uk
I am studying at Birkbeck for a year in a project that is going to be part of my PhD at the University of Helsinki. At CBCD, I am  working with professors Gergo Csibra and Dick Aslin, and Dr Elena Kushnerenko. In Helsinki, I am working in the Early Auditory Skills research group in the Cognitive Brain Research Unit.
Research interests
My research interests include early language learning and more specifically the statistical learning mechanisms related to language acquisition. Currently, I am studying the statistical skills for word segmentation in newborns and how different cues affect the learning of phoneme categories in older infants.
Curriculum vitae
Master of Science, Helsinki University of Technology, February 2006.